People
Bangor University (lead institution)
Lead Investigator: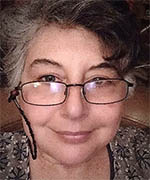 Dr Anita Malhotra (Reader, Bangor University)
I was born and brought up in India, where I gained my interest in venomous snakes although I have lived, studied and worked in the UK since my mid-teens. While my research encompasses population and molecular evolution of reptiles in general, I have a special interest in the systematics of Asian pitvipers. I started this project because, working on venomous snakes, it is impossible to ignore the human cost of living alongside them.
Key Partners: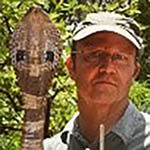 Dr Wolfgang Wüster (Senior Lecturer, Bangor University)
I am interested in understanding the evolution of venom in snakes, and the role of venoms in their natural history and ecology. While working in the rural tropics, I was struck by how common it is to meet people who had either suffered snakebites themselves, or lost relatives to it. This has led to me taking a particular interest in working towards reducing the burden of snakebite suffered by the people who often feed the rest of their country, yet are often among its poorest and most neglected citizens.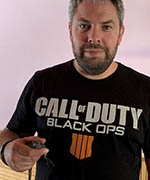 Dr Stuart Graham (Honorary Research Fellow, Bangor University)
I have two main areas of research on disparate groups of organisms in different geographical regions. My general research interests lie in habitat utilisation and conservation biology, focusing on spatial and temporal utilisation of habitats to identify mechanisms for the conservation of small, fragmented populations of European Protected Species (EPS) and / or Ecologically Distinct Units (EDU). Another strand of my research involves venomous snakes and snakebite mitigation, which ranges from mapping the distribution, genetic and venom variation present in venomous species across the country, to undertaking rescuer training and education & awareness programs.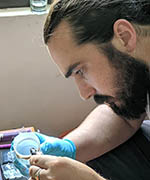 John Benjamin Owens (Postgraduate Researcher, Bangor University; Captive and Field Herpetology)
My interests lie in human conflict with venomous snakes, with a focus on snake ecology. Currently, I am pursuing a PhD at Bangor University, focussing on the habitat preferences and spatial ecology of the Russell's viper (Daboia russelii) and how this can influence the [bite] risk to labourers in agricultural fields, in India.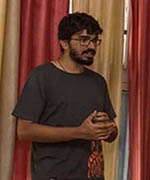 Sourish Kuttalam (Masters student, Bangor University)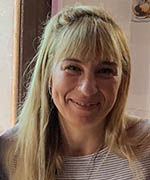 Dr Anatoli Togridou (Independent Researcher based in the UK)
My main area of interest focuses on human-wildlife conflict, which is a threat to the survival of many species. Understanding the factors that lead to this conflict is vital to the development and implementation of prevention and mitigation tools. A more detailed understanding of perceptions towards snakes and snakebite would provide knowledge-based, targeted engagement programmes. One would expect that this would lead to more positive and appropriate responses towards snakes, reduced incidence of snakebite and enhanced conservation efforts for snakes.  A second line of research I am participating in is on amphibians occupying rare freshwater habitats in the Cyclades, Greece, facilitating genetic analysis and species assignment, along with species distribution mapping to inform potential conservation interaction.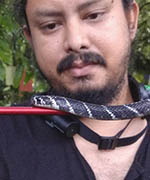 Vishal Santra (Simultala Conservationists and Foundation for Wildlife; Captive and Field Herpetology)
I am co-founder and executive member of the NGO Simultala Conservationists, which manages a wildlife rescue, rehab, and treatment centre in Hooghly District, West Bengal and provides a consultancy to Emergency Medical Officers at rural hospitals regarding snakebite mitigation & management. I work as a consultant herpetologist for a number of research projects aimed at reducing the burden of snakebite on the rural poor of India. I provide general awareness education for schools on conservation and snakebite management, as well as hands on training to the National Disaster Response Force personnel and Forest Department officers on snakebite mitigation and management.
Indian Academic Partners:
Additional collaborators: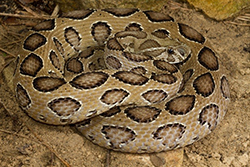 Photo: Russell's viper, one of the "Big Four" most dangerous snakes in India and probably the most dangerous.
Photo by Anita Malhotra